Announcing

Shadows & Starlight
—Indian Paintbrush Poetry, 2012
In the penultimate poem of this collection, "Poet as Shaman," Knoepfle, like Prospero, relinquishes his magic, the art of poetry: "now as I conclude // my part in this revel beginning my ending here," while claiming for poetry the ability to illuminate, to place in perspective, the five hundred billion galaxies and recover a sense of awe at their brilliance: "but the poet can do this for you // as I drift to my own ending // he can leave you with those first stars." Just as Prospero, Knoepfle saves his best magic for last."
—Brian Leroy Jackson
Order using our PayPal portal.
Other books available via PayPal here
Artist & Poet
"Writing Poems is hard human work. It is a matter of many failures and of successes that must be seriously qualified. I write poems because this is what I am able to do. In my poetry I try to reflect a common quality that I have found in persons as diverse as Ohio River raftsmen and expatriate professors. This quality does not reveal the aesthetically beautiful or the diamond-like intellectual fireworks that man is capable of, but it does reveal something basic and handsome about him. I like this handsomeness, and I try to discover it again in my poems."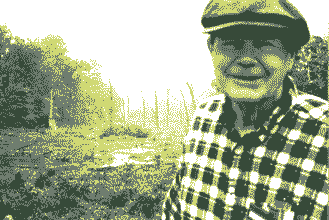 Poem of the Month


"I would consider John Knoepfle one of those classic poets of place. His attachment to the midwest is a genuine attachment; it is the place that he inhabits, rather than writes about, and that is what makes the poems so lovely. I think it has to do with his sense of relationship of place to person to word."
—Brooke Bergen
About John
John Knoepfle is the author of over 20 books of poetry as well as several prose pieces. He is Professor Emeritus of Literature at the University of Illinois- Springfield. His awards include fellowships from the Rockefeller Foundation and the National Endowment for the Arts as well as the Mark Twain Award for Contributions to Midwestern Literature. Click here to read
...more about John
Order a book
For information on contacting John, or to order a book, click here.